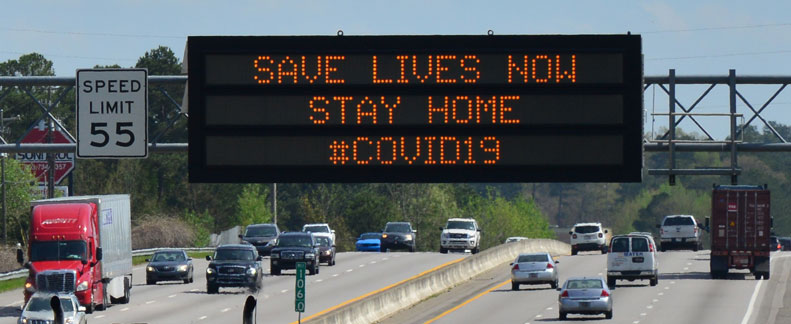 Image: scdot.org

More than a month has gone by since the United States started closing schools and businesses, and ordering Americans to stay home in an effort to stop the spread of the coronavirus (COVID-19).

During that time, little has changed as far as the need for people to buy and sell property. People are still experiencing life events that create this need, such as divorce, losing their jobs, getting promoted, having babies, settling estates, marrying, and so on.
As people are experiencing these life changes in this uncertain time, they are relying on real estate professionals now more than ever to find ways to get real estate done.

These are some of the coronavirus-related changes and adaptations you may encounter in your real estate journey:
Fewer in-person showings. Listing agents are finding ways to bring their listings to buyers through 3D Matterport Tours, video walk throughs, and virtual open houses.

Buyers agents are touring houses on behalf of their clients through video chat. Buyers are getting more comfortable buying a house without seeing it in person.
Sellers are weighing multiple offers in new ways, such as the buyer's career industry or place of employment.
The loan process is constantly changing and taking longer. Different lenders have different requirements. Lenders are recommending 60-90 days from contract to closing. Proof of employment is verified on closing day.

FHA and VA appraisers are not entering homes. Some appraisals are getting done after closing.
Title abstractors have restricted access to land and property records, which is causing another delay in the closing process.
Change can be scary, but it's also exciting. The next question is, How will these new methods of doing business shape the future of real estate?
The marketing techniques and virtual client services mentioned here are not new. Some agents (yours truly) have been using them for years (see this link for examples). I expect to see more and more agents adopt these techniques as part of their regular business plan. Agents who are uncomfortable with using video, and investing in 3D tours, will (and should) find new careers.
The lending process will continue to be tedious, and borrower requirements will become more strict... but requirements will eventually loosen again.
Some states have started practicing online closings. South Carolina doesn't currently allow them, but I suspect if they're done elsewhere, SC attorneys will pursue that option in the future.
What should you do if you're thinking of buying or selling right now? Is there an advantage to waiting?

My advice is to enlist the help of a trusted real estate professional to guide you in your specific real estate need. Whether you're buying or selling (or both!), you should work with someone who understands this changing market and how it affects you specifically.

Contact me today to discuss your real estate questions and concerns, and to help you create a plan to achieve your next real estate goal.
###
---> Follow me on social media by clicking the icons at the top of this page for timely information about real estate and more!